Oil Change near Me

---
There's a variety of services that your Genesis model will need over the years that will help ensure that it performs at its best. But the most crucial one, and most common, is the oil change. If you're driving near Cerritos, Long Beach, and West Covina, CA, and notice the signs, you may want to quickly search for "oil change near me" to find a dealership that can help!You can actually look to us at Norm Reeves Genesis of Cerritos! Our team is here to help you when the time comes to have your oil changed. Schedule a service appointment to get started.
---
---
Why Do I Need My Oil Changed?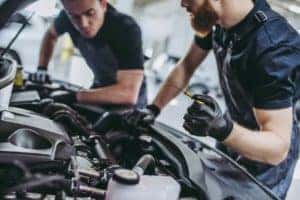 Oil is an essential fluid for your vehicle. It helps the moving metal parts in your engine by lubricating them, so they can move efficiently without grinding together and creating friction. Oil cools the parts and even helps keep them clean by absorbing the grease and debris.
While oil is crucial, it does get dirty over time due to its cleaning properties and the prolonged exposure to engine heat. At this point, it becomes less effective at its core functions, so it's imperative that you have your oil changed.
---
How Do I Know It's Time for an Oil Change?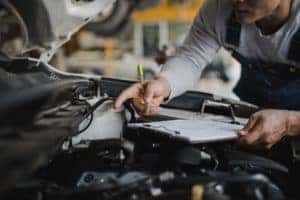 There are several ways that you can tell that it's time for an oil change at our service center. The best way is to simply keep track from the last time you had your oil changed. Of course, there's also the oil change light that will come on to let you know to schedule an oil change.
However, there are a few other signs to look out for:
Decreased Fuel Efficiency
Sluggish Performance
Loud Engine Noise/Knocking
Thick Exhaust Smoke
---
How Does an Oil Change Benefit My Car?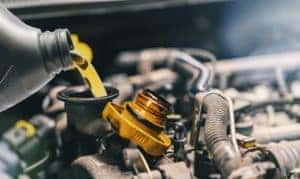 When you keep up with oil changes, it'll provide immense benefits to your vehicle. Your car will perform at its best and most efficient when the oil is fresh. Regular and timely oil changes can also help keep your Genesis model in great shape over the years, and can even help improve its longevity.
If you hold off on oil changes for too long, it could result in some engine complications that would require extensive repairs.
---
Schedule an Oil Change near Me Today
If you see the oil change light appear, or you know that it's time, you can schedule your oil change with us! Our team at Norm Reeves Genesis of Cerritos is here to assist you with your automotive needs. They'll perform the necessary services and have your vehicle back to you, performing at its best, in no time!
Schedule your next oil change with us!
---