Genesis GV70 Dashboard Light Guide

Knowing your Genesis GV70 is crucial in order for you to get the most out of your treks throughout Cerritos, Long Beach, and West Covina, CA, while ensuring that you're keeping up with the care and maintenance of your vehicle. Your Genesis GV70 dashboard lights are a great way to know when there's something wrong under the hood. Of course, you'll want to be able to know what the lights mean.
At Norm Reeves Genesis of Cerritos, we're here to help you! We're going to break down some of the various indicator and warning lights, so you'll know what to do when they occur while you're out on the road!
Warning Lights vs Indicator Lights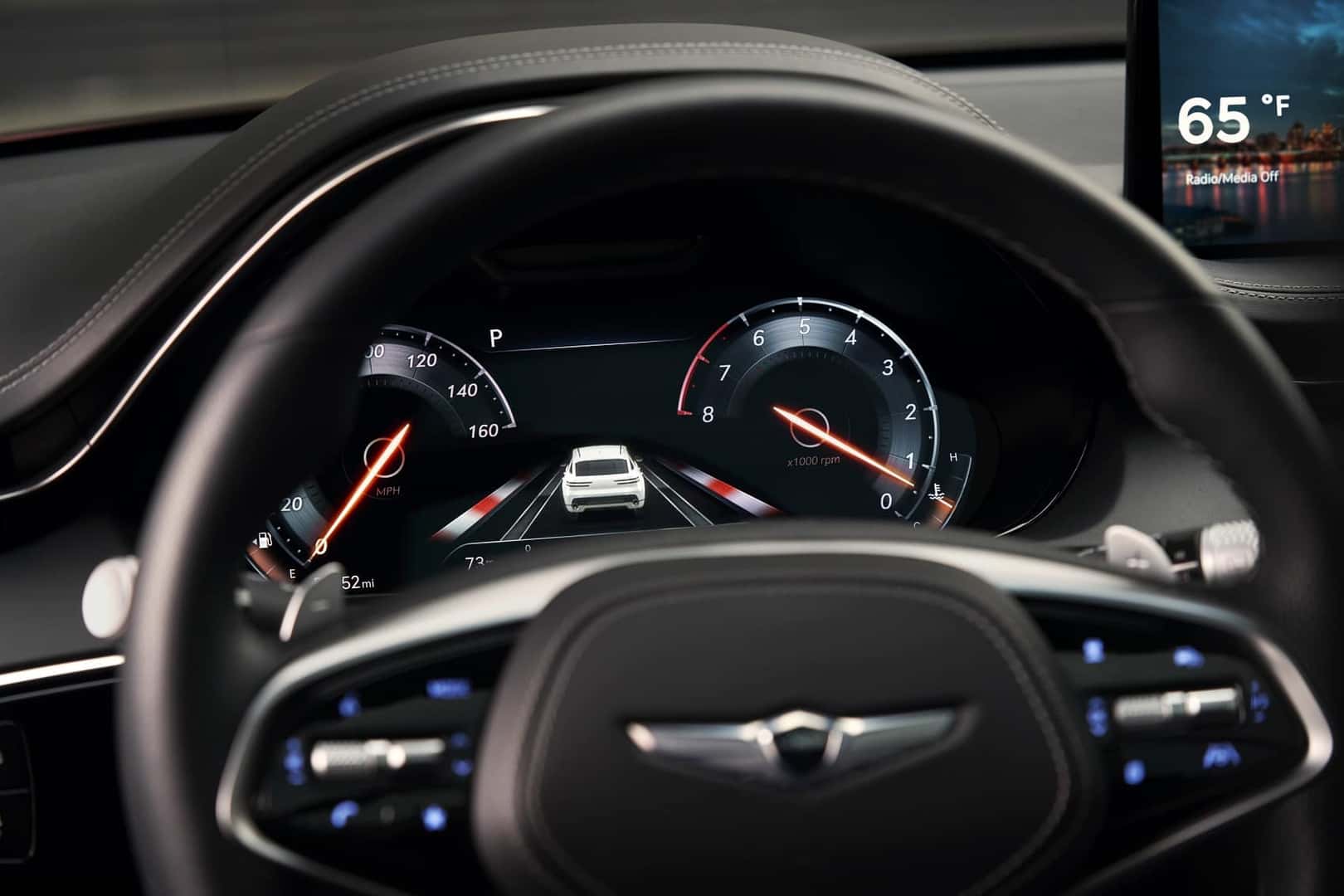 There are two sets of lights that can appear on your dashboard. Indicator lights are generally green or blue. They'll come on when you've activated a system, or if your vehicle has activated a system. They'll disappear once the system that it indicates has been deactivated.
Warning lights, on the other hand, are something different. These lights, usually orange or red, are letting you know of an issue occurring under the hood. If you see these lights, you'll want to contact your dealership right away.
Genesis GV70 Indicator Lights
Electronic Stability Control (ESC) Indicator Light—This light, which appears as a swerving vehicle, lets you know that your ESC has activated due to a loss of stability or traction.
High Beam Indicator—What looks like a sideways shower head spraying water is actually your high beam indicator light. It'll appear when you have your high beams activated.
Sport/ECO Mode Indicator—These lights both appear as either SPORT or ECO. They mean that you've activated a specific drive mode. When you turn off the drive mode and resume to normal, the lights will go away.
GV70 Warning Lights
Electric Power Steering Warning Light—When you see a steering wheel symbol with an exclamation point next to it, it means that your power steering is malfunctioning. You'll want to pull over to safety and contact your dealership because maneuvering your vehicle safely will be difficult.

Charging System Warning Light—This light, which appears as a battery symbol, means that your battery isn't charging. You'll want to pull over before your battery runs out, and contact the dealership for assistance.
Engine Coolant Temperature Warning—This symbol looks like a thermometer over boiling water. It means that your engine coolant temperature is high and your engine could overheat. Pull the vehicle over and cool the engine before resuming your trip. If it appears again, contact your dealership.
Schedule Your Genesis GV70 Service with Us
If you see that one of your dashboard warning lights has popped on while you're making your way around the roads of Cerritos, Long Beach, or West Covina, California, you'll want to pull over to the side of the road and contact us at Norm Reeves Genesis of Cerritos.
You can either drive it in or, if it's an issue that can affect your vehicle's health or safety, we can provide towing assistance to our service center to get started on correcting the issue!
Schedule your service with us today!