Genesis G90 Dashboard Light Guide
---

---
Knowing your Genesis G90 is vital for when you're on the road throughout Cerritos, Long Beach, or West Covina, CA. However, if something occurs while you're out on a trip, you'll be notified via your Genesis G90 dashboard lights. These lights have very different meanings, so to get the most out of your experience, you'll want to know what they are and what you need to do when they appear.
At Norm Reeves Genesis of Cerritos, we're here to help by showing you the differences between the lights that can appear, and picking out some important ones so you can prepare yourself if they pop on while you're driving.
---
G90 Indicator vs Warning Lights
There are two different types of lights that can appear on your dashboard while you're out on the road. Indicator lights are usually green or blue and they're simply letting you know that a specific system has been activated either by you or automatically by the vehicle.
Warning lights, on the other hand, are letting you know of an issue in real time. These lights generally are red or orange and they indicate a problem under the hood that you'll need to address.
---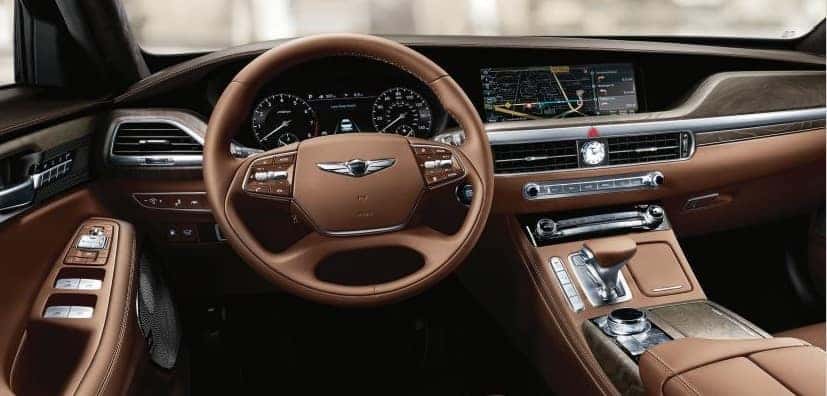 ---
Genesis G90 Indicator Lights
Electronic Stability Control (ESC) Indicator Light—If you see this light pop on, which resembles a vehicle swerving, it means that your vehicle activated the ESC due to a loss of traction or stability.
High Beam Indicator Light—This light, which appears as a sideways lamp projecting light beams, means that you've activated your high beams. It'll go away once the high beams are turned off.
Immobilizer Indicator Light—This light resembles a silhouette of a car with a key imprinted on the side. It means that your immobilizer is activated and your vehicle won't start until you've deactivated it.
---
G90 Warning Lights
Motor-Driven Power Steering Warning Light—This light, which appears as a steering wheel with an exclamation point next to it, means that your power steering is experiencing a malfunction. You should pull over to safety and contact the dealership immediately.
Charging System Warning Light—When your battery can't keep a charge, a battery symbol will appear, and the light will flash. You'll want to pull over before the battery runs out, and contact the dealership for assistance.
Master Warning Light—This light, which looks like an exclamation point inside a triangle, indicates that there's an issue with one of your engine systems. You'll want to bring it in for service and have the problem diagnosed and resolved.
---
Schedule Your Genesis G90 Service Today
Now that you're familiar with your Genesis G90 dashboard lights with the indicators and warnings, you're aware of what they mean and what you should do in the event that they appear while you're out on the roads of Cerritos, Long Beach, and West Covina, California.
If you see a warning light appear, you'll know to pull over to safety, and contact us at Norm Reeves Genesis of Cerritos! Our team is here to help you and your vehicle!