---
What Type of Oil Does My Genesis G70 Take?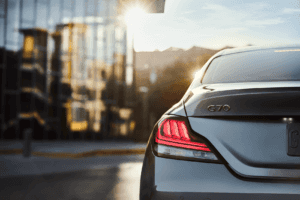 Using the right oil is crucial for your G70. Of course, the Genesis G70 oil type depends on which engine you have. Genesis recommends using Quaker State products for your replacement oil. If you have the 2.0L Turbo engine, you'll want to use 0W-30 (SAE Viscosity Number) for 6.02 quarts. If you have the 3.3L Twin Turbo engine, you'll want 5W-30 (SAE Viscosity Number) for 7.29 quarts.
Schedule Your Genesis G70 Oil Change Today
Now that you know more about what the oil change process is, how oil helps with your engine, how to tell you need an oil change, and what Genesis G70 oil type you need, you're ready to keep your vehicle in great shape and performing at its best!
Staying on top of your Genesis G70 oil change yields great results like optimal efficiency, strong engine health, and even vehicle longevity. If the time is approaching for your next oil change, or you've noticed some of the signs that indicate you need this type of maintenance, you can schedule your oil change service with us at Norm Reeves Genesis of Cerritos!
We're here to help keep drivers on the road throughout the Cerritos, Long Beach, and West Covina, California, area!