When you're contemplating the right luxury car like the Genesis G70, there are a lot of options to consider. Of course, just because you need a car doesn't mean you have to buy it. In fact, you can get behind the wheel of the G70 without having to go through financing just to take it out on the roads of Cerritos, Long Beach, and West Covina, CA!If you're looking for a Genesis G70 lease, you can always look to us at Norm Reeves Genesis of Cerritos! Our team is here to help you learn more about the G70, the process of leasing one, and how it differs from buying one. Contact us today.
Quick Facts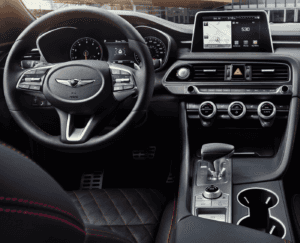 The Genesis G70 offers quite a lot to its drivers. It comes standard with a 2.0L Turbocharged 4-cylinder engine that's able to produce 252 horsepower and 260 lb-ft of torque. Of course, drivers seeking more of a punch with their performance can select the available 3.3L Twin Turbocharged V6 engine that pushes forward to 365 horsepower and 376 lb-ft of torque.
These engine options come mated to the 8-Speed Automatic Transmission that includes Shift-By-Wire and Paddle Shifters for a sportier performance.
The interior offers plenty of sophisticated technology as well. They include Apple CarPlay® and Android Auto™, the 8-inch touchscreen, and the available 15-speaker surround sound system. You'll certainly get more entertainment and convenience out of your commutes and adventures!
---
Leasing vs Buying
There are a few differences with leasing vs. buying your Genesis G70. There's a down payment with leasing, but it's far less than if you go through financing. You may even benefit from having lower monthly payments than you would if you'd purchased the G70.
While you won't own the vehicle, it'll be yours for the next few years. You'll need to keep up with service, ensure that it's well taken care of, and you'll need to be mindful of the miles that you put on it. If you go over your mileage limit, you may need to pay for them.
---
What Happens When the Lease Ends?
When you've leased a Genesis G70, and you'll have had some great years on the road, you'll want to think about the next steps when you're coming up on the end of your term. You have a few options to consider.
You could always just turn the vehicle in and walk away. However, if you like the vehicle and want to keep the miles coming, you can actually buy it out of the lease. Of course, if you like the feel of a new car with the latest tech, style, and engineering, you could always lease an entirely new Genesis model!
Get Started on Your Genesis G70 Lease Today
If you're eager to feel the experience of driving the roads of Cerritos, Long Beach, and West Covina, California, you can begin by exploring your G70 options at our dealership. Once you're ready to take the next step, schedule your test drive with us at Norm Reeves Genesis of Cerritos!