Genesis Dealer near Ontario, CA

Ontario, CA, is a scenic city in San Bernardino County that's about 35 miles east of L.A. It offers quite a lot to its over 160,000 residents with beautiful mountain views, museums, an airport, and of course, a bustling downtown area with a variety of shops and restaurants.
But if you're looking to take on your trips up Euclid Avenue or your commutes along the San Bernardino Freeway behind the wheel of a stylish luxury car, you may want to look out for a Genesis dealer near Ontario, California, that has a plethora of options.
When the time comes, you can contact us at Norm Reeves Genesis of Cerritos to get started!
Browse the Inventory at Our Genesis Dealership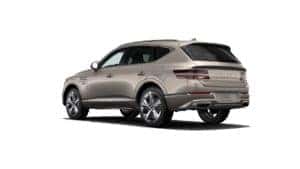 There are plenty of options to look at when you're aiming to find the right Genesis model at our dealership. You'll have a variety of options from a sedan like the G70, a crossover like the GV70, or even a large-and-in-charge luxury SUV like the GV80. You'll have all those models and more to explore!
You can even begin your experience of finding your next luxury car without even having to leave the house! By browsing online, you'll be able to get a sense of your options, and you can plan your visit to our Genesis dealer from Ontario, CA!
Research Your Options
Deciding on the right luxury car can be a challenge—but a fun challenge! Of course, you'll want to learn more about the selection with what they offer, so you can determine the best vehicle for your needs. However, instead of spending hours browsing brochures and spec sheets, you can actually check out some of our resources!
Our reviews are a great way to get a sense of your preferred Genesis model to see what it offers and what it can do. Our comparisons can show you how your favorite Genesis vehicle measures up to other vehicles that you may be considering. These guides can help you prepare for the ultimate form of research: the test drive.
Take the Test Drive

When you head to our Genesis dealership from Ontario, CA, it's your chance to see your favorite model up close! Our team can provide you with some more details on the specs and features, and they'll even highlight the available trim levels and packages.
But to really see if your preferred luxury Genesis model is right for you, you'll want to experience it on the road. The test drive is your chance to put your newfound knowledge to the test to see what the vehicle can do on the road. You'll even get a feel for the features and technology!
Once you pull back in, you'll know if the vehicle is right for you!
Get Started at Our Genesis Dealer near Ontario, CA
If you're eager to begin the experience of finding the Genesis model that's right for you, you can begin by browsing the selection, and schedule a test drive with us at Norm Reeves Genesis of Cerritos to see if it's the right vehicle for you!
Schedule your test drive with us today!